An unexploded ordnance (UXO) remediation company in the USA has invested in the Remoquip remote control technology for a number of their excavators. The remediation company's equipment of choice is conventional excavators. Handling such dangerous and deadly objects leaves an obvious question for the machine operators safety. In the event of a bomb exploding during excavation it could result in serious or even fatal injury to the operator.
The remediation company contacted Remoquip, a company that specialises in transforming conventional equipment to radio remote controlled machinery. Remoquip is best known for it's "Line of sight" dual control remote systems used in the construction sector, in particular the demolition industry as a demolition robot replacement. This system allows an operator to operate a machine from a safe distance working in a dangerous environment and operate the machine through line of sight remotely. When the machine is finished working in the danger area the remote system can be turned off and the operator can resume work as normal on the seat of the machine the conventional way. However, Remoquip also offer a Long Range Dual Control System. This system allows the operation of a machine at a distance up to 1.5 km employing a camera link to the control centre. Meanwhile, the machine retains its Dual Control facility enabling conventional operation again when required. The camera system makes it clear and easy for an operator to work from a safe distance in a site cabin or bunker. The remediation company have found the complete system "a huge success" and commended the Remoquip product for its "ease of use". An operator from the company said the remote control "mimicked the controls in the cab which made it very user friendly when operating remotely". The control centre can be mobile and can be re-located as required.
    Remoquip on-site control centre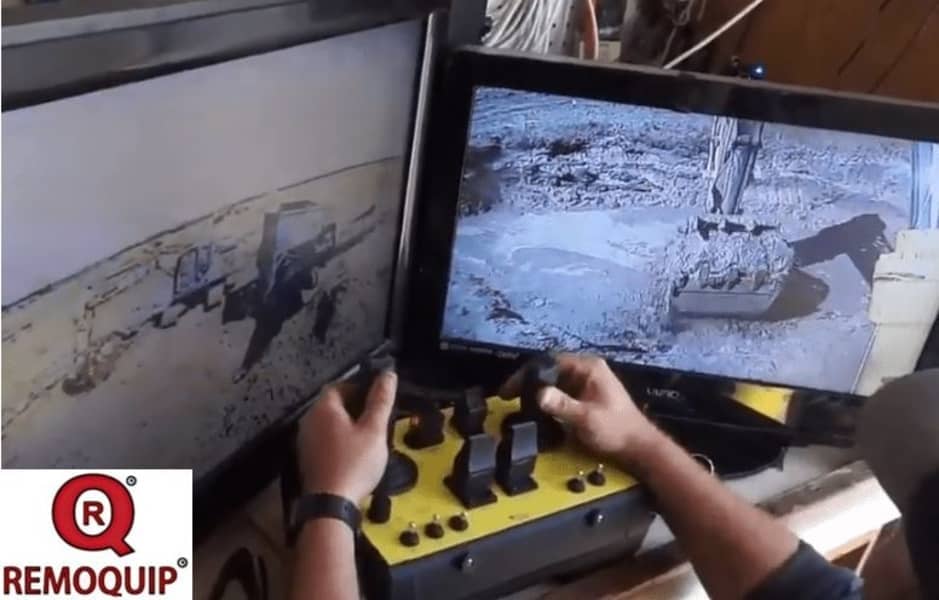 Remoquip offer a complete package to clients where they supply the equipment and systems required for a project with on site training to staff. In some circumstances they offer rental option on a long term. A full technical service is available to clients.
An amphibious excavator fitted with Remoquip Dual (DC) System
A 21 ton excavator fitted with a Remoquip Long Range Dual Control (LRDC) System
Remoquip Robot 2 ton – 50 ton available
Remoquip – Line of Sight System
More information available at www.remoquip.com
Email sales@remoquip.com